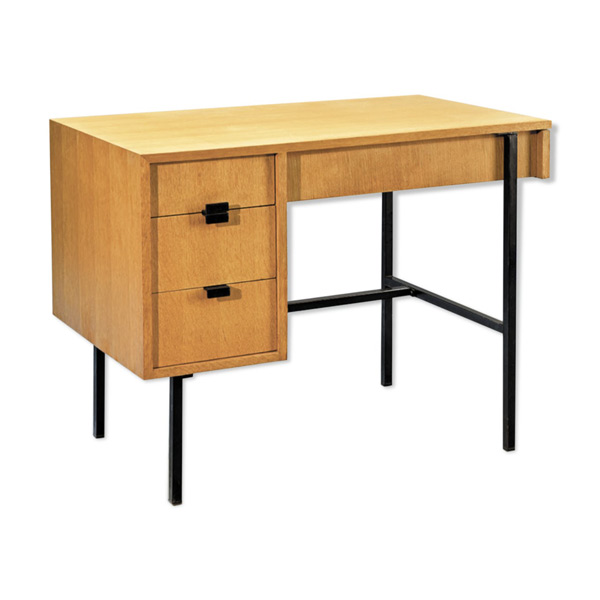 Among Jacques Hitier's desks, let's focus in this chapter on one of his most memorable desk: Jacques Hitier's "Multitable" desk.
The "Multitable" is referring to the multiple functions this design bring along in everyday's life. It can work as desk or/and table.
Background
Minimalist style with subtle lines breaking with the dominant design trends of that time.
This desk was showcased in 1963 at the French design art fair called "Salon de la Société des artistes décorateurs".
Even though it followed a purchase order from a public organization, this design was quite popular among individuals.
Jacques Hitier Multitable desk's specifications
Features
Industrial production
4-leg desk
Tubular enamelled metal leg structure
Different type of wood were used:
Oakwood for the top table, the drawer fronts and the edges
Mahogany from Multipli's manufacturer for the drawer sides
Plywood for the drawer bottom
Multiple drawer furniture:
1 drawer on the side
3 drawers in the front
Size
Width: 98 cm
Height: 75 cm
Depth: 60 cm
Many variations of sizes and materials can be found.
They talk about Jacques Hitier's Multitable desk
on TV
The school desk was featured on a French TV show called "Affaire conclue, tout le monde a quelque chose à vendre" in February 2019.
on the web
Where to buy Jacques Hitier's multitable desk
Explore other furniture creation from Jacques Hitier
If you need further information about the Multitable desk…
…we will be pleased to hear from you