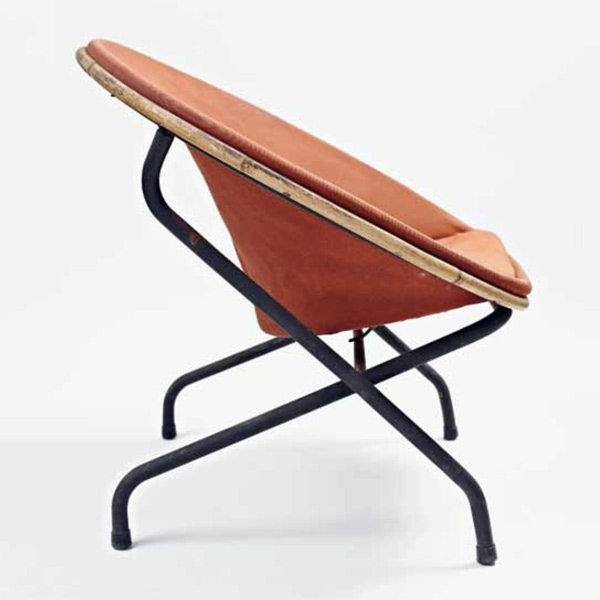 Among Jacques Hitier's chairs, let's focus in this chapter on one of his most iconic and utilitarian chair: Jacques Hitier's Nacelle chair.
This small and smart seat designed by Jacques Hitier is the perfect example of he defined modernity.
The "nacelle" armchair is foldable and easy to carry. It offers a comfortable moment by using a simple piece of cloth tighten on a genius metallic structure.
Background
Jacques Hitier showed the first version in the living room on the French design art fair "Salon des arts ménagers" in 1955.
Then he added a fordable system in order to gain more space. This way, he adapted his creation to small common spaces in student rooms at that time.
Jacques Hitier "Nacelle" chair's specifications
Features
Industrial production
Black tubular enamelled metal leg structure
Different type of material were used:
Cloth for the seat
Polyurethane foam to stuff the cloth
Circle rattan structure to stretch the cloth
A second version :
In an ultimate model presented in 1957, the metal legs meet in a simple circle and are no longer folding.
Size
Width: 71 cm
Height: 67,5 cm
Depth: 63 cm
Seat: 33 cm
Many variations of sizes and materials can be found.
They talk about Jacques Hitier's "Nacelle" chair
on the web
Explore other furniture creation from Jacques Hitier
If you need further information about the Nacelle armchair…
…we will be pleased to hear from you